Nowadays, everyone is looking for easy ways to make money with minimum effort. Luckily, With the growth in technology, making money has become easier than ever before. You can make a good amount of money by staying at home.
Although there are various different ways to make money online, every method needs your attention and efforts to pay back the profit. That's why you need a tool that can help you in every possible way to make your dream come true. 
GrooveFunnels is one of the tools that can help you make money online. From starting an online store, dropshipping to PPC and other affiliate programs, you can use GrooveFunnels, easily. 
But, How? 
This is what we are going to reveal in this blog post. 
So, let's discover how you can make money with GrooveFunnels.
What Is GrooveFunnels?
GrooveFunnels is a newbie in the market with great potential. It is a complete package platform that enables you to build landing pages, websites where you can sell goods online, and sales funnels, all under one platform of GrooveFunnels. Although it has just hit the market, its popularity is overgrowing as one of the best online money-making platforms.
How To Make Money With GrooveFunnels?
As the title suggests, the purpose of this post is to teach you how to earn money using GrooveFunnels. GrooveFunnels is a fantastic chance for a marketer to earn money quickly and easily. Let's have a look at how GrooveFunnels help you make money online. 
1- Start an Online Business with Low Cost
Selling your own products is the most convenient method to establish your brand, launch a successful online business, and earn money.
What you need is to determine what kind of products you are selling. Whatever is the product that you are selling, you'll need a website, which you can create for free with GroovePages.
Additionally, you'll need a selling mechanism to take payments online, which GrooveSell can provide. If you're selling actual goods or engaging in eCommerce, you'll need an online shop, which GrooveKart provides for free. 
If you're establishing an online course, you'll need a membership site, which GrooveMember automatically creates. Then you'll need to market all of this, perhaps via a blog or video traffic, which GrooveBlog and GrooveVideo can help with.
Additionally, many other items are accessible for free in Groove, with many more being introduced regularly.
Along with tools, you'll need knowledge. You can find lessons at Groove Digital Academy. Additionally, they have a Facebook group where you can find every sort of information and continuous live training where you may ask questions.
2- Start Affiliate Marketing Business
The easiest way to make money with GrooveFunnels is to join GrooveFunnels Affiliate Program, promote it, and in return, you will receive a huge commission from the company. 
How to Make Money with GrooveFunnels Affiliate Program?
If you've never heard of it, simply imagine a referral system where you advertise a product or service using your unique link, and if someone buys, you get a commission. 
Thus, affiliate marketing is a referral-based marketing system.
For this purpose, you should narrow down your target audience who could benefit from this platform. In this way, it will be easier for you to promote this product. This product will do the job itself. You just need to promote it among the right audience who could benefit from this platform. 
There will be a commission on every sale that is generated by its affiliate. The amount of commission depends upon the plan that you chose. 
As a GrooveFunnels affiliate, you'll get 40% commission plus 10% on referred sign-ups and a 2 tier commission. If you stay on the free plan and use the referral system, you will still make a 20% commission and another 5% on two tiers.
Groovefunnels is one of the fast-growing marketing platforms for the starter. This platform has also got the attention of digital marketers due to the many features that this product has to offer, which makes it easier to promote.
If you become a paying member, you can earn up to 40 percent commission on the products. While signing up, Groovefunnels also charges their customers based on the plan they choose. It also offers a robust customer management system.
This platform also supports the Facebook group to speed up the sales of the affiliate. Events are also organized to increase the sales of the affiliate. This platform offers so many benefits and facilities to its affiliates, so that is why GrooveFunnels is one of the best tools for affiliate marketing as it is easy to promote.
Conditions For Affiliate Marketing
To start affiliate marketing with GrooveFunnels, some conditions and rules are associated with this program.
You are not allowed to do email spamming, and it is strictly prohibited to use unsafe email lists.

Do not offer any payment reduction to the people that are buying from your link.

Genuine reviews must be present on the SEO review site. Any Negative hook-up campaigns are not allowed.

You are not eligible to buy from your link.

On social media, there will be no negative marketing and things like that.
If you do not follow these rules and conditions, They will cancel your account, and no commission will be provided.
3- Start Selling Funnels on Freelance Marketplaces
A sales funnel enables you to better understand your clients' thoughts and actions throughout the buying process. By interpreting these facts, you will be able to allocate your marketing resources strategically and messages. It will help you in finding target audiences. Funnels are essential in marketing.
If you have some expertise with creating funnels, you can provide the service of creating a sales funnel to other businesses, small company owners, and customers. It is very profitable and convenient through GrooveFunnels.
You can easily make 100$ to 1000$ by selling funnels. However, it all comes down to your client's requirements and wants according to the sales funnel. Make sure you have a good profile so that customers will choose to hire you over other professionals. Experience in a particular field is essential if you want to attract more clients. If you have a lot of expertise in managing and creating the ideal sales funnel, you are most likely open to recurring revenue.
This technique may take some time and experience, and mastering software requires a significant investment of time and resources. You may take design classes online to learn about the basics of the craft, but one of the most effective learning methods is to learn how to use the program yourself. 
4- Be a GroovePages Monarch and Help Entrepreneurs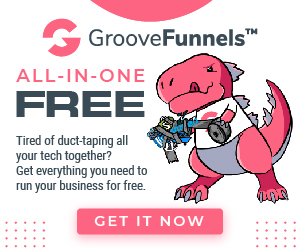 The simple act of selling website services to customers, clients, or other small company owners is another excellent method to earn money using the GrooveFunnels platform.
The fact that you are a GrooveFunnels customer provides you with a distinct edge over all of the other services available, which may help you achieve tremendous success. Let's find out why.
With GrooveFunnels, you can easily design a website from the ground up using the GroovePages page builder (or you could start by utilizing some of the templates currently available in your accounts). Then you could offer the website service for a one-time fee or as a monthly subscription.
GroovePages (the program you'll use to build the website pages) loads very quickly on search engines, and GroovePages now provides free hosting, which makes this approach highly effective.
Many company owners are still utilizing out-of-date web hosting and website development services, making it one of the most in-demand services.
Providing them with a solution that allows their websites to load much more quickly can help them rank better in the search engines. They might see an increase in traffic, sales, and customers very immediately, which would completely transform their company and save them a significant amount of money in the process.
You might even offer to waive any hosting fees they may have incurred, given that GrooveFunnels provides this service for free.
5- Launching An Ecommerce Store
Grooverkart enables you to launch your eCommerce store with ease through GrooveKart.
If you're into e-commerce, you've probably heard of Groovekart. The new Shopify competitor shows that most consumers are buying online, and most businesses are trying hard to earn more online. However, The platform that you choose to start your online business has a primary role in your business success.
GrooveKart is the best way if you are looking to launch an eCommerce store.
GrooveKart is similar to Shopify, but there are no monthly fees, saving you hundreds of dollars. With GrooveKart, dropshipping and print-on-demand (POD) fulfillment have never been easier. GrooveKart allows you to easily open and manage your eCommerce store.
GrooveKart also has a connection with AliExpress, an online store that allows small companies to sell to consumers worldwide, and TeeScape, a premium print-on-demand service for various items.
6- Start a Blog and Make Money 
GrooveBlog is another amazing platform that allows you to spread your content through blogging and earn a good amount of money in exchange.
With GrooveBlog, you can easily optimize and publish content online — without the need to buy plugins and themes.
One of the most discussed and apparent advantages of blogging is Search Engine Optimization (SEO). SEO is the process of optimizing your digital material, so Google understands what it is about.
Blogging enables you to promote affiliate products or sell ad spaces. You can join the Amazon affiliate program. You can promote the products through your blog, and you will receive a commission for each sale.
And once your articles start to rank higher, you can monetize your blog by using Google Adsense, which is another source of making a good amount of money.
Why Should You Use GrooveFunnels?
GrooveFunnels is one of the most significant entries in the market, and its popularity has been growing ever since its launch.
No matter whether you're just getting started in the online world or an expert business person, you may want to manage every element of your company using easy tools – all from the same place!
And you don't want to spend more money on things like webinars, CRM tools, landing page builders, email marketing, funnel builders, sales tools, and other such things that aren't necessary. The cost of purchasing these tools individually may quickly mount up!
GrooveFunnels provides you with all of these necessary internet marketing tools for a fraction of the cost of competing products.
Let's have a look at why you should use this software:
Reason 1 – It Offers A Forever Free Subscription Option.
Yes, you may join up for GrooveFunnels utterly free of charge. There are, of course, certain limits to this approach.
The free plan provides you with access to the following features:
GrooveAffiliate + GrooveSell

GroovePages (Lite)
As the name suggests, there are certain limitations to the page/website builder's capabilities, but they are sufficient to get you up and running.
What's great is that you may use your custom domain names even on the free plan, which is a fantastic feature. In addition, as a free affiliate, you may earn up to 20% in commissions.
Reason 2 – Great Affiliate Program
We have already discussed the affiliate program, and you must get an idea of how amazing it is and has lots of benefits. GrooveFunnels has a fantastic affiliate program that has the potential to be very profitable.
Users that sign up for free will get a commission of 20% on profit.
Platinum members, on the other hand, receive 40 percent commission plus 10 percent 2nd-tier commission. With the GrooveFunnels free plan and lifetime offer, earning money via the GrooveFunnels affiliate program becomes straightforward.
It is effortless to spread the word about the Groove free plan. And since the lifetime deal is such a compelling offer, and because individuals are motivated to earn the 40 percent commissions, you will get a significant number of upgrade requests.
Reason 3 – Vast Active Community
When it comes to investing in a product ecosystem, the importance of community cannot be overstated.
Having a supportive community may significantly impact your entire experience, whether you're looking for help, troubleshooting problems, or just exchanging ideas.
With over 108,000 members in the GrooveFunnels Facebook group at the time of this review, you have a vast supportive community that is ready to help you and answer your queries.
A significant portion of this increase may be ascribed to the availability of free accounts as well as the opportunity to make payments for life.
Given that many group members have switched to a premium plan and are now running successful online companies, a great deal of information is shared in the group. As a result, it is worth your time to take part in.
GrooveFunnels Unique Features
Although this platform has lots of unique features, let's have a look at two of the most impactful features that will blow you away.
1- Create A Web-Based Application
GroovePages is a web-based application that allows you to create pages that work fast, for example, Landing Pages Website Builder.
GroovePages is a drag-and-drop page builder that offers the traditional drag-and-drop experience. It works similarly to other page builders in that you can use it to create individual landing pages or a collection of pages that combine to form a complete website.
When establishing a new Site, you'll go through the typical steps of selecting a page template and editing it before making any modifications to it.
While there aren't many templates accessible at this time, the ones are well-designed and easy to use. Some themes even have sister templates that operate together, which helps maintain a consistent theme across many website pages.
2- Process Online Checkout Payments 
You can't have a sales funnel without including the "sales" component, which is where GrooveSell comes into play.
Customer payments are processed via the usage of the shopping cart feature on your website. In terms of functionality, it's similar to other shopping cart systems such as ThriveCart, and PayKickStart.
The dashboard provides you with an overview of all sales done via the platform over a given period, including data such as sales, revenue, commissions, profit, and so on. You may also create custom dashboards for specific purposes.
Another report called Transactions provides you with a more linear picture of your sales, including the name of your customers, what they purchased, how much they paid, and when they made the payment in question.
It will be necessary to make sales fill the data on this sales dashboard with accurate information.
GrooveFunnels, in short, is a great way to make money with ease. It is easy to use, and the features are unique and can't be found anywhere.
Make Money with GrooveFunnels – Infographic
Are you Ready to Make Money Online? 
If we talk about the techniques to make money through GrooveFunnels, you may notice that Some methods are basic and straightforward, while others require a little more time and effort on their part. Both, at the end of the day, may assist you in generating income.
 It was just a Beginner's Guide to Making Money with GrooveFunnels; there is still more to learn. There is money to be earned on GrooveFunnels if you know what you're doing and how to do it correctly.